The Eskelunds Family
The Eskelunds Family
One day on a little farm in the town of Vamlingbo, on the Island of Gotland Sweden, two missionaries from the Church of Jesus Christ of Latter-Day Saints, knocked on the door of the Lars Esklund family. One of the missionary's was called Elder Flygar from Ogden Utah.
The family was taught about the church and they were baptized.
It was customary in those days in Sweden for the oldest son or daughter of a landowner to remain at home after marriage and take care of the parents and eventually inherit the estate.
Katherine Esklund was the oldest. She and her husband Lars Esklund and their children Anna Marie, Hans, Harmon, Elisabeth and Emma Johanna lived with their grandmother, Catherine Jacobsdotter or Caisa as she was called.
I can only assume that they wanted to be with their leader and Prophet Brigham Young, and other members of their newfound faith making the trip across the plains to Utah.
They sold their lands and other possessions to make the journey.
Katherine, Lars, their 5 children and Grandma Caisa all left their home to move to America.
They first sailed to Stockholm. They arrived too late for the winter boat and they were forced to remain in Stockholm until the spring boat sailed. While they were there they saw the King of Sweden whose palace was in the city. The family was thrilled over this experience.
In the April 1862 the family boarded a ship called the "Electrica", and headed towards America. The trip took seven weeks. It was a very stormy and rocky journey. When the children became scared Katherine gave them a little sugar to keep them happy. Sugar was an almost unknown luxury then. Many people got sick on the journey. Grandmother Caisa became sick on the ship.
Their son Herman was stricken with a fever, which left him, crippled.
The Esklunds traveled in steerage, as did most other immigrants. They had to take turns with the cook stove. Sometimes cooking at one time enough food to last a week.
While on the ship on April 23, Elisabeth, my great grandmother turned 5. She was given a porcelain eggcup. She must have treasured that because she carried it the whole way across the plains.
The next day April 24 her brother was born. They named him Louis Cardigad.
The ship docked in New York City on June 5 1863.
On June 19 they took a train to Florence Nebraska. Grandma Caisa never recovered from the journey. She passed away and is buried there. She was only 66 years old.
They traveled with the John R Young Company. In John R Young's journal he speaks about the Swedes in his company. How he had to give them help since they didn't speak the language.
The year was 1863 and there was still some danger from the Civil War that had been going on in America. People were scared to make the journey fearing they would run into the war.
In Florence they bought a covered wagon, an Oxen, and a beautiful new cook stove.
With all of the family's possessions inside the covered wagon there was not much space for anything else. Children under 5 years of age got to ride in the wagon. The older children, like Elisabeth's sister, who was 10, had to walk the whole trip. The trip was 1,300 miles. Because Elisabeth was 5 she got to ride some of the time in the wagon and other times she walked beside the wagon.At first Lars had some difficulty driving the oxen, as he was not use to them but with faith in God the little family bravely began it's journey westward.
This song was written by William Clayton while he was making his journey to Utah. It speaks about the hardships.
Come, come, ye Saints, no toil or labor fear;_But with joy wend your way._Though hard to you this journey may appear,_Grace shall be as your day._'Tis better far for us to strive_Our useless cares from us to drive;_Do this and joy your hearts will swell -_All is well! All is well!__
Why should we mourn or think our lot is hard?_'Tis not so; all is right._Why should we think to earn a great reward_If we now shun the fight?_Gird up your loins; fresh courage take._Our God will never us forsake;_And soon we'll have this tale to tell -_All is well! All is well!__
We'll find the place which God for us prepared,_Far away in the West._Where none shall come to hurt or make afraid;_There the Saints will be blessed._We'll make the air with music ring,_Shout praises to our God and King;_Above the rest these words we'll tell -_All is well!
All is well!__And should we die before our journey's through,_Happy day! All is well!_We then are free from toil and sorrow, too;_With the just we shall dwell!_But if our lives are spared again_To see the Saints their rest obtain;_Oh, how we'll make this chorus swell -_All is well! All is well!
In the late fall they arrived in the Salt Lake City, only to be advised to go on to Gunnison to live. Gunnison was a small area that was being settled for ranching. Many Swedish family's were asked to settle there. The Esklunds already knew some of the other family's there , which made the move nice for them.
The first winter in Gunnison was a very hard one. Lars had quite a bit of money when they left Sweden but he had loaned so much of it to less fortunate pioneers that he and his family were initially forced to live in a dugout. At last it was even necessary to trade the new stove for a cow to replace the one, which died crossing the plains. My mother once traced what happened to that stove. Today it is in a pioneer museum in Utah on display.
Even with all their inconveniences they were thankful and happy with their newfound religion.
In the spring the family worked very hard. Elizabeth remembers going with her father to the field to herd the oxen and how frightened she had been at every noise, thinking perhaps it was Indians. She remembered many of the settlers rushing into the cellars for shelter against attack by hostile tribes.
A rock fort was built in Gunnison to protect the people from the Indian attacks. The fort covered four blocks with a guard at each corner. The men took turns standing guard at night and also during the day while the men worked the fields. They had to guard the cattle as well.
Finally after many hardships and sacrifices they obtained a farm of their own and a log house. When they had lived in Gunnison for nearly seven years a party formed to move to Scipio.
Their Prophet Brigham Young told the people to leave and move to a safer place where the Indians were not as hostile. The Esklunds moved with them. The town was first called Richfield but later Brigham Young changed it to Scipio. For a while they lived in a log house but eventually they built one of adobe. Katherine planted a garden. She loved a garden.
On May 10 1869 Elizabeth traveled with her sister and nieces and nephews to Salt Lake City to watch the famous event of driving the "Golden Spike" into the ground which connected the Union Pacific Rail road with the Central Pacific Railroad.
Lars may have fought in the Indian Wars. I am assuming this would be the war he fought in. I do not know for sure.
The Comanche Campaign (1867-1875) was a series of conflicts that took place throughout the border regions of Colorado, Kansas, New Mexico, and Texas, between the Arapaho, Comanche, Kiowa, and Southern Cheyenne tribes of Native Americans and the United States Army and white settlers.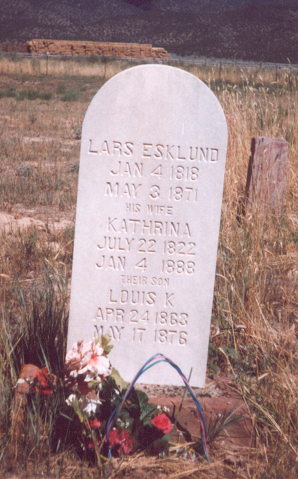 Lars Petter Eskelund Hansson. Born 1818-01-04 in Äskes, Sanda, Gotland, Sweden. Died 1871-05-03 in Scipio, Millard, Utah, USA, Amerika.
Married 1847-11-05 to
Brigitta Catharina, "Kathrina" Båtelsdotter. Born 1822-07-21 in Austre, Vamlingbo, Gotland, Sweden. Died 1888-01-04 in Scipio, Millard, Utah i USA.
Child:
1. Anna Maria Christina Eskelund. Born 1848-09-22 in Austre, Vamlingbo, Gotland, Sweden. Died 1919-10-05 in Scipio, Millard, Utah, Amerika. (Married 1865-10-18 in Gunnison, Sanpete, Utah i USA to Fredric Louis Wadsen. Born 1846-05-22 in Aston, Beighton, Derby & York i England. Died 1927-12-27 in Scipio, Millard, Utah, USA.)
2. Hans Petter Eskelund. Born 1852-01-09 in Austre, Vamlingbo, Gotland, Sweden. Died 1925-12-23 in Scipio, Millard, Utah, Amerika. (Married 1876-10-29 in Scipio, Millard, Utah i USA to Elizabeth Martin. Born 1859-02-27 in Salt Lake City, Utah i USA.)
3. Båtel Herman Eskelund. Born 1854-07-12 in Austre, Vamlingbo, Gotland, Sweden. Died 1897-08-13 in Scipio, Millard, Utah, Amerika. (Married 1882-08-26 to Alice Arilla Hutchinson. Born 1866-01-17 in Springville, Utah i USA. Died 1932-05-02 in Scipio, Millard, Utah i USA.)
4. Catharina Elisabeth Eskelund. Born 1857-04-23 in Austre, Vamlingbo, Gotland, Sweden. Died 1942-08-21 in Scipio, Millard, Utah, Amerika. (Married 1880-11-04 in Salt Lake City, Utah i USA to Carl Mathias Peterson. Born 1852-12-14 in Domerarve grund, Öja, Gotland, Sweden.)
5. Emma Johanna Eskelund. Born 1860-05-27 in Austre, Vamlingbo, Gotland, Sweden. Died 1934-07-10 in Scipio, Millard, Utah, Amerika. (Married 1884-01-14 in Scopio, Millard, Utah i USA to Hans Petrus Adolph [Golden] Hansén. Born 1862-03-09 in Vamlingbo. Died 1937-04-20 in Scipio, Millard, Utah i USA.)
6. Louis Cardigad Eskelund. Born 1862-04-24 in Kattegatt, Nordsjön. Died 1876-05-17 in Scipio, Millard, Utah, Amerika.
Back home on Gotland, Carl Mathias Peterson was living there. He was over six feet tall. He had dark hair and always wore a mustache. His family was also joining the Church of Jesus Christ of Latter-day Saints. Carl's uncles joined the church and had already made the journey to Utah in 1864.
Carl struggled with what he should do. He had become a successful Taylor in the city of Visby. Just before his parents were to make the journey he had a dream. He dreamt about a beautiful girl in a red plaid dress that he would meet at church in America who would become his wife. It was such a powerful dream that he decided to join the rest of his family moving to America.
Carl Mathias Peterson crossed the plains in 1869.
When Carl first laid eyes on Elisabeth Esklund he knew at once that she was the girl in his dream. Carl was 28 and Elisabeth was 20 when they finally met in Scipio Utah.
They married Nov. 4 1880 in Salt Lake City.
In my grandmothers history she writes about her childhood home, "Our home was very small and humble. Very few brides moved into a home with more than one room. My Mother was very proud and happy because they had two rooms. The house was adobe, with a thatched roof. When the family increased in number a log room was added and a summer shanty for summer cooking. Our family was a loving, happy one, very united." She also says " After a week of hard work, there was the Saturday night bath in the kitchen and on Sunday the pleasure of clean clothes, going to church together, and afterward a chicken dinner and rice pudding made with milk the special Swedish way."
Carl and Elisabeth spoke Swedish to each other but they did not encourage the children to speak Swedish, as they wanted them to be real Americans without an accent.
Until ready-made clothes began to be sold Carl sewed for the people of Scipio. A peddler would come to town with bolts of cloth. People would make their selection and then Carl would tailor a suit or coat for them.
Carl and Elisabeth had 8 children. In order of birth they had Anna (my grandmother), Emma, Edith, Ina, twins Edward and Albert, Genevieve, and Hans. Before Hans was born Carl had another dream that the baby would be born with a clubfoot. The dream came true.
In 1893, diphtheria raged in the small town. All the children contracted the dreaded disease except the baby (then) Genevieve. All of them survived except Edith, she was only ten years old.
In Feb. 1915 Carl and Elisabeth suffered the loss of another child. Emma died of pneumonia at the age of 32, leaving her husband and 5 children. They all moved into live with Carl and Elisabeth.
In the fall of 1917 their son Edward was sent overseas to France and Germany to fight in World War 1. He was killed in the battle of Argonne on Nov. 11 1918. Carl went out to the hills to find a long straight tree to make a flagpole that was to be part of the memorial to Edward. The flagpole and memorial plaque are still by what is left of the old meetinghouse in Scipio.
In 1930 Carl developed problems with his prostate gland and suffered a great deal of pain. One of the last things he was remembered saying was that he wanted to go home, to see Gotland one more time. He died on Oct 23 1930 just two weeks before he would have celebrated his and Elizabeth's golden anniversary.
Elisabeth died Aug 21 1942
They are both buried in the pioneer cemetery in Scipio Utah.
I know from reading the journals I have from some of their children and from some of their grand children including my Mother's that everyone of them had a dream to return back to Gotland. I am so grateful that I was able to fulfill theirs and my dream and return home.
Over 70,000 pioneers from the Church of Jesus Christ of Latter-day Saints made the journey to the West. I am proud to have pioneer blood in me and grateful for my brave family that believed so much in their religion to give up everything they knew and loved for what they believed to be the right thing to do.
I hope you enjoy their story.
Inga Olson Bodine
A big thank you to Inga, who wrote down their family history.
Elisabeth Molin